Mountain sports and hiking
Practical, versatile and lightweight
Mountain sports have many facets and your equipment should have these as well. In the mountains you feel connected to nature and are always rewarded with an incomparable view after a strenuous climb. In summer, mountain sports tend to consist of hiking or trekking tours lasting one or more days, while in winter, skiing or hiking in the snow are on the agenda. You can take it all in stride if you have the right luggage with you.
Discover our selection of trekking backpacks and hiking backpacks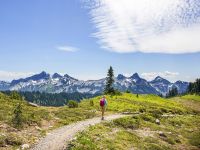 Well prepared for the next tour
If you like to go on long hiking tours, then you know that not only the right footwear is important, but also a high-quality backpack. For a one-day tour you need a hiking backpack. Ideally, it is equipped with external pockets so that you can quickly and easily access your water bottle. An extra compartment in the lid helps you keep important items like sunscreen, tissues or your smartphone close at hand. In addition, the ergonomics are important. In addition to adjustable shoulder straps, your hiking backpack should be padded on the back. If you are traveling for several days, you will probably need a trekking backpack. After all, for such a long tour you pack not only a jacket to put on, but a change of clothes, thick socks and a sweater for the night and probably you also have a tent and a sleeping bag with you. The trekking backpack must therefore offer plenty of storage space and the interior should be practically divided. In addition to shoulder straps, you need at best a hip belt, so that you can transport the often heavy trekking backpack back-friendly and energy-saving. Whether trekking or hiking backpack, the luggage must be waterproof, so that a surprising rain shower does not bring you off balance. At koffer24 you will find high-quality trekking and hiking backpacks and matching water bottles.
Packing your backpack wisely
While a backpack is convenient because it's comfortable to wear on your back and you have your hands free, it can be difficult to quickly find the exact item you need. Therefore, it is important to pack your new hiking backpack wisely. At best, use small pockets like cosmetic bags to pack smaller items so they don't get lost in the depths of your pack. Some backpacks, especially trekking backpacks, have an opening on the side. Thus, you do not have to clear out your entire luggage when you are looking for something. At koffer24 you will find backpacks in different sizes and designs for your individual needs.
Get your companion for the next tour
Product filter (2 article)