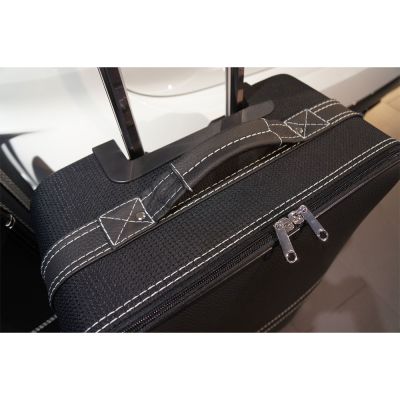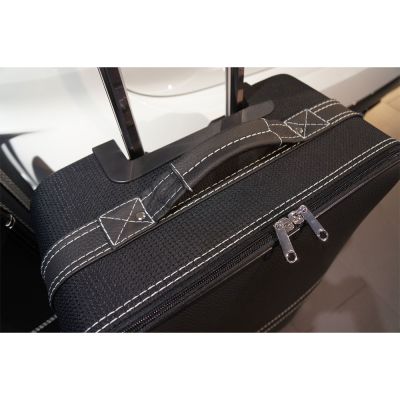 Available in 20 days, delivery time 1-2 days
More articles from +++ Roadster bag +++ to look at
product description
Product Number:
1048494
This 4-piece luggage set was specially designed for the BMW 4 Series Convertible G23 and fits exactly in the trunk without wasting space. So you can always go on tour with maximum luggage even with the top down. The cases have a lockable lid with inner compartment (with zipper) and tension straps for fixing the contents of the case, so that nothing slips during the trip. The trolleys have a fully retractable handle and ball-bearing, chrome-plated rims with extra-wide tires, making them easy to move around when full. The lightweight frame of the cases ensures stability and easy handling, while the embroidered logo, selectable colored stitching and fine lining made of Ancarra® microfiber give the set a sophisticated look.
Series: BMW 4 Series Convertible G23
Type: Car case
Upper material: imitation leather and luggage nylon, handles ital. Leather
Interior material: Ancarra® microfiber
Silver stitching (other stitching color available)
Main compartment with 2-way zipper
Inner compartment with zipper
Tension straps inside
Carrying handle on top
Ball bearing wheels (trolley)
Recessed telescopic handle (trolley)
Case dimensions (height x width x depth): 41 cm x 26 cm x 16 cm
Dimensions trolley (height x width x depth): 76 cm x 40.5 cm x 22 cm
Please note: The car suitcase sets are designed for use in vehicles and are not suitable as airline luggage. Please use hard shell suitcases from other manufacturers for this purpose. The suitcase sets are only available online - not available in stores.
BMW 4 series convertible G23 Bj. from 2021 4-piece luggage set trunk