No longer indispensable
The laptop has become indispensable for everyday business. Thanks to flexible working models, it is now quite normal not to leave it in the office, but to take it home with you. Of course, it's also indispensable on business trips. After all, we carry our entire professional life around with us in the form of our laptop. It must therefore be well protected and still be able to be transported in style.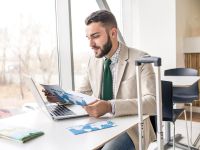 Laptop bags for everyday use
Of course, the laptop isn't the only item you'll need to transport from home to the office and back again every day. That's why it's important to find a business bag that can hold other items as well. Modern laptop bags are designed in such a way that, in addition to the electronic device, there is also enough space for documents and writing utensils. If you are sporty and ride your bike to work, then you should go for a laptop backpack. This can be carried comfortably on the back and you have your hands free for cycling. It also offers space for all your utensils. At koffer24 you will find various laptop bags and backpacks.
Taking your laptop on a business trip
If you have to travel on business, then your laptop is of course also an integral part of your luggage. Here, too, you are well advised with a laptop bag that has a well thought-out interior. You can take this in addition to the trolley or suitcase and have your laptop so also during the journey handy. A laptop backpack can also be practical here. If you don't want to have another piece of luggage next to your suitcase, then a laptop sleeve is a good idea. These are so small that only the computer fits inside. Afterwards you can store it well protected in your suitcase. Another option would be a pilot case. The handy cases are designed inside so that a laptop next to clothes and Co. well and safely place. In the online store of koffer24 we offer you various pieces of luggage for business, which facilitate the transport of your laptop.
With these products you can safely transport your laptop
Product filter (123 article)